$75.00
NZD
Category: Craft
Readers with a hunger for knowledge and an interest in the myriad ways people have taught themselves to make, grow, and build will discover the ins and outs of how to do everything they've ever wondered about in this colorful, inviting volume. With dozens of useful and intriguing visual tutorials that c over how to carve a turkey, capture a swarm of bees, predict the weather by the clouds, darn socks, create a butterfly garden, set up a dog agility course, keep a nature sketchbook, navigate by the stars, and more, this rich compendium will educate, fascinate, spark conversation, and inspire new hobbies and experiences. ...Show more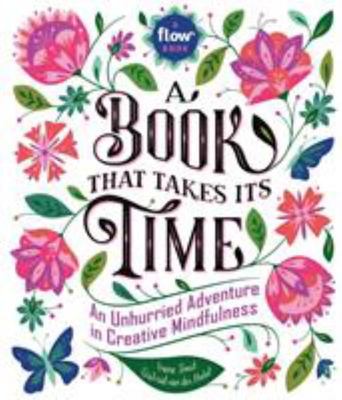 $65.00
NZD
Category: Craft | Series: Flow Ser.
From Flow, the groundbreaking international "magazine that takes its time," comes the first big book in a publishing partnership that celebrates mindfulness, creativity, beautiful illustration, a love of paper, and life's little pleasures. Flow is unique for a magazine in how it mixes articles, inspirin g quotes, and what the editors call "goodies"--bound-in cards, mini-journals, stickers, posters, blank papers for collaging, and more--giving it a distinctly handcrafted, collectible feeling. A Book That Takes Its Time is both a book about mindfulness and a book that literally inspires mindfulness. It's like a meditation retreat between two covers. You can't hurry through it; it's the anti-page-turner. It's a book that makes you stop to savor, play with, and appreciate all the lovely and interesting detours that hands-on activities provide. Read an article on the benefits of journaling--then come to "The Joy of One Thing at a Time Notebook" tucked into the book. An essay on the power of being grateful is followed by pages of illustrated "Beautiful Moments" cards to fill in, punch out, save, and revisit. Suddenly being grateful becomes a habit. Readers will learn hand-lettering, the basics of collaging, even how to meditate while running. There's never been a book like A Book That Takes Its Time, a book that mixes reading and doing, to help readers live a more thoughtful life and have so much fun in the process.   ...Show more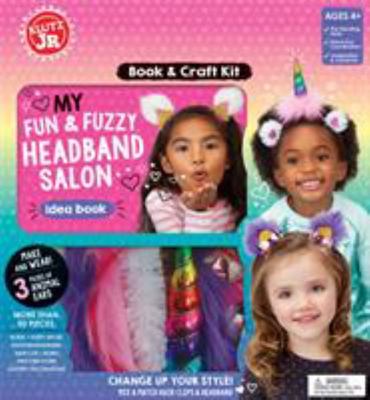 $25.00
NZD
Category: Craft | Series: Klutz Junior
Little Makers will channel their favorite animal with these trendy hair accessories they make themselves! Bend 3 different designs with super fuzzy, pre-cut stems and custom foam ear shapers, then add self-adhesive bows, jewels, and glitter foam accessories to make the look your own. Attaching them is a s easy as sliding them onto the included clips or headband and you're ready to rock your wild style! Comes with: 3 colours of fuzzy stems, pre-cut pieces, 2 giant pipe-cleaners, 4 alligator clips, attachable unicorn horn, custom foam ear shaper and holder, plastic headband, glitter foam jewels, pre-made bows, foam tape squares, foam ear guide ...Show more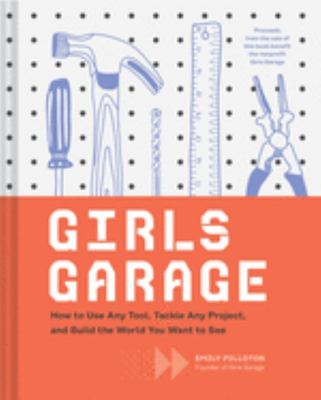 $50.00
NZD
Category: Craft
Girls Garage is the only book you'll ever need for a lifetime of building and repair. Packed with over 175 illustrated tool guides, 11 how-to projects, 21 essential skills, and 15 inspiring stories from real-world builder girls and women, Girls Garage will inspire you to fill up your toolbox and get bui lding   With a background in architecture and construction, Emily Pilloton started the nonprofit Girls Garage to give girls the tools to build the world they want to see. Since 2013, girls ages 9-18 have come to Girls Garage's workshop eager to use power tools and build real-world projects for their community. The Girls Garage book puts that same power into girls' hands around the world, inviting them to join a thriving, diverse, and fierce movement of fearless builder girls.   Not sure which screws to buy? Need to fix a running toilet? With Girls Garage, you'll have the expertise to tackle these problems with your own hands. Or maybe you want to get creative and build something totally new. A birdhouse? A bookshelf? Girls Garage has you covered. Girls Garage will be both a trusted household resource and a wellspring of inspiration and encouragement in the vein of Women in Science Headstrong: 52 Women Who Changed Science and the World. Nonfiction books for women and girls age 14 and up Carpentry, home repair, building projects Inspiring DIY for teens, kids, and adults ...Show more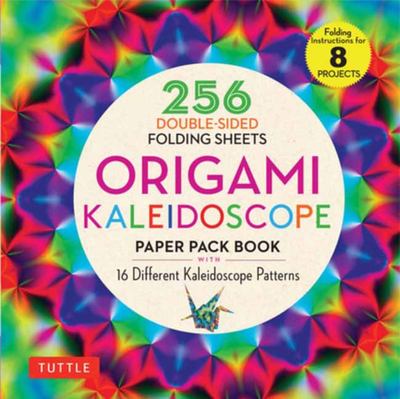 $20.00
NZD
Category: Craft
New functional format, same high-quality paper   Similar format to a paperback, this origami paper pack from Tuttle Publishing has more than 250 sheets of richly saturated, double-sided origami paper. Held into place with an easy tear-out design, you won't have to worry about loose papers in your pack f alling out or getting creased and crinkled.   Origami Kaleidoscope Paper Pack Book includes: 256 double-sided 6" folding papers 16 mesmerizing kaleidoscope patterns 13 pages of full-color instruction, with origami tips and tricks Step-by-step directions for folding 8 origami models ...Show more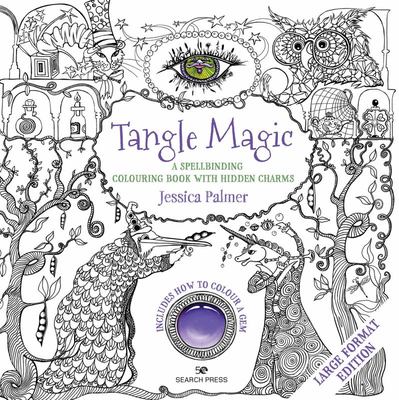 $25.00
NZD
Category: Craft
Jessica Palmer, illustrator and papercutter, has created 75 pages of enchanting hand-drawn pictures for you to colour and lose yourself in. The images all have a magical theme, and each one includes a hidden charm intricately worked into the design for readers to discover and colour in. The book will in clude designs that fit on a single page as well as those that extend across a double-page spread. Some of the designs fill the entire page and others sit within it. There is also a page on 'how to colour a gem'. High quality paper means that there is no show-through. ...Show more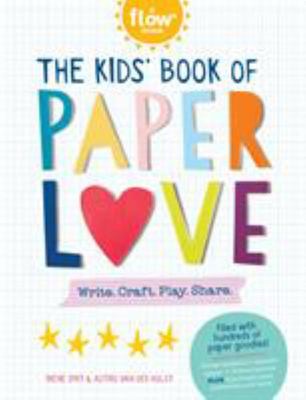 The Kids' Book of Paper Love
by Editors of Flow Magazine Staff; Irene Smit; Astrid van der Hulst
$45.00
NZD
Category: Craft | Series: Flow Ser.
A surprise on every page Brimming from cover to cover with projects and other paper surprises, The Kids' Book of Paper Love, from the bestselling editors of Flow magazine and books, is a bounty of a book that begs to be folded, cut up, collaged, doodled on, and shared. Loop paper strips into a paper chain. Snip out bookmarks. Fold a paper house. Make photo booth props--a silly mustache, a crown--to pose with friends. Bind up a DIY storybook and use it to sketch out adventures and dreams. Construct a paper flower bouquet, a paper terrarium, a fortune-teller with prompts like Lend someone a book and tell them why you recommend it. Plus there are Flow's signature paper goodies, including a foldout paper banner, postcards, glitter stickers, a paper doll, a two-sided poster, and so much more. It's a pure hands-on treat. Every page is an activity Includes: Decorative cutouts Cards for friends A DIY storybook Stamp stickers Photo booth props ...and more ...Show more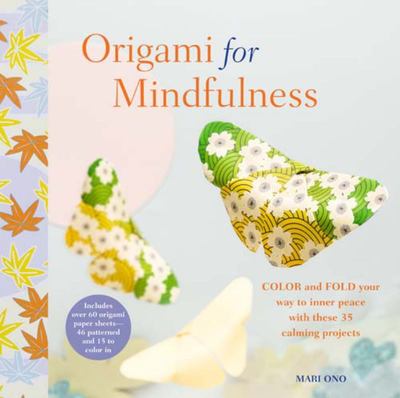 $15.00
NZD
Category: Craft
The therapeutic effects of origami are well known in Japan and here Mari Ono - an expert in Japanese papercrafts - reveals how a few simple folds can reduce stress, improve concentration and help overcome negativity. By focussing on the experience of creating beautiful paper flowers, objects, animals an d more, this collection of 35 projects will guide you on a path to connectedness, awareness and improved physical and emotional health. Not only that, the feelings of joy and satisfaction gained from completing a model will bring inner peace and help to redress emotional imbalances in our daily lives. Origami is also the perfect tool for anyone interested in taking the first steps toward a mindful lifestyle - it is a very pure discipline where no expensive equipment is required and you can do it anywhere. To get you started, over 60 pieces of origami paper are provided, including a selection of sheets you can color in yourself-another activity proven to elicit a calming response in the body. ...Show more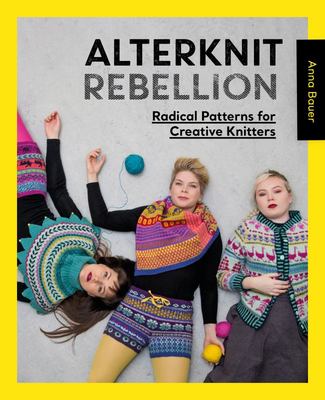 $40.00
NZD
Category: Craft
A collection of bright, bold and beautiful knitting patterns based on Honsestrikk, a Danish knitting movement from the 1970s which broke away from traditional knitting rules. Honsestrikk, which loosely translates as 'chicken stitch' was influenced by the radical social and political movements of the tim e, including the women's rights movement, and this can be seen in the personal and political messages of the some of the pattern designs. Instead of the more traditional fair isle colourwork techniques, Honsestrikk knitting featured political messages and motifs, colours clashed and borders butted up against each other in a riot of colour and pattern. Honsestrikk is about knitting in a freer style so you have the freedom to express yourself and create truly unique, personalized garments and accessories. Designer Anna Bauer has been inspired by the Honsestrikk movement to this collection of basic designs and patterns so you can choose your own combinations and create and knit your own free, radical knits. ...Show more
$30.00
NZD
Category: Craft
An introduction to the wide world of knitting by way of making your own hat   Knitting is an excellent handcraft and something people love the world over. For crafting newbies, knitting can seem highly daunting: you need needles (but what size?), yarn (but what weight?), and a pattern (but what kind?), and very quickly knitting can start to resemble another language, tricky to navigate and even harder to master. Knit a Hat teaches you everything you need to know about the previously scary craft: the needles you'll need, the yarn to use, and tried-and-true techniques to get you started, keep you going, and help you wrap everything up. Alanna Okun is an expert knitter and oï¬eers very accessible instructions: Her idea of starting with a hat rather than a long scarf is sure to make this book easy for even the wariest of beginners. Building on our crafting how-to series, Alanna welcomes readers into the knitting community and invites them to knit a hat with conï¬?dence. ...Show more
$10.00
NZD
Category: Sale Book
Cross stitch is a traditional craft that allows beginners and experts alike to enjoy the experience of creating something, whether it's for themselves or a gift for a loved one. As you stitch, you gradually see something pretty come to life and, once it's finished, you can think, 'I made that'. Hannah S turrock lloves to stitch and wants you to love it, too. Here she shares over 30 beautiful patterns with you. Discover five chapters of fabulous ideas: For a Beautiful Baby; For Big Kids; For a Special Occasion; For a Nature Lover; and For the Home. Make an adorable barnyard scene picture for young ones, or a comic-book style cross-stitched mobile phone case. Add an extra handmade touch to presents with stitched gift tags, and create a Christmas toy sack that will be treasured throughout the years. Bring the beauty of nature into the home with the flower hessian tote and the stunning floral finch cushion. You can even take cross stitch to a new level, decorating walls with washi tape birds and stitching velvet ribbon onto woven chair seats. Make use of other innovative materials, too, including soluble canvas - which allows you to cross stitch on any fabric - and glow in the dark embroidery thread. Hannah's designs are a little bit different from what is available elsewhere. She uses simple outlines with striking patterns and clean, fresh colours, and takes inspiration from new interior fashions, vintage textiles, nature, toys and more, always striving to be contemporary and stylish. ...Show more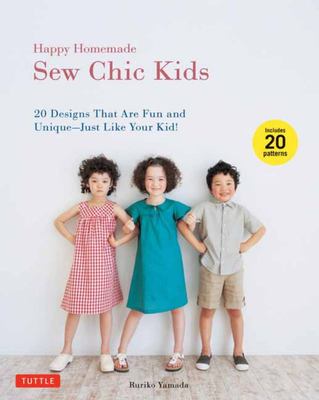 $28.00
NZD
Category: Craft
Today's DIY generation loves to outfit their kids in stylish homemade clothes, and kids love clothes that feel good. Designer Ruriko Yamada draws from her own experiences as a mom to create designs and sewing patterns that are fun to wear, easy to make, and infused with covetable Japanese style. "Happy Homemade: Sew Chic Kids" features easy-to-follow diagrams, Japanese sewing patterns in English, and simple instructions on how to make twenty super-comfy pieces for both boys and girls, including: Pin-tucked blouse Dress with flared sleeves Knee-length shorts Tiered skirt Boy's stand-up collar shirt Pull-over parkaYamada provides four sizes of westernized patterns, each of which can easily be adjusted to fit children from three to nine years old. Simple lines give kids room to move, and the classic styles look good on any frame. Sewing for children has never been easier. With "Happy Homemade," you'll whip up a fantastic, money-saving wardrobe in practically no time at all! ...Show more