$33.00
NZD
Category: Fiction
Bea's five-year-old daughter, Agnes, is wasting away, ravaged by the smog and pollution of the overdeveloped, overpopulated metropolis they call home. Bea knows she cannot stay in the city, but there is only one alternative- The Wilderness State. This vast expanse of unwelcoming, untamed land is untouch ed by mankind. Until now. Somewhere between a science experiment and a refugee, Bea and Agnes slowly learn how to live in this unpredictable, often dangerous land. But as Agnes embraces this radically free new existence, Bea realises that her bond with her daughter will be tested in ways she could never have foreseen. ...Show more
$33.00
NZD
Category: Fiction
'As natural as the grass grows.' - Chinua Achebe '[Dangarembga] is a wonderful creator of character.' - Doris Lessing '[A] Masterpiece.' - New York Times 'Searing and enlightening.' Sefi Atta, author of Everything Good Will Come. In this tense and psychologically charged novel, Tsitsi Dangarembga channe ls the hope and potential of one young girl and a fledgling nation to lead us on a journey to discover where lives go after hope has departed. Here we meet Tambudzai, living in a run-down youth hostel in downtown Harare and anxious about her prospects after leaving a stagnant job. At every turn in her attempt to make a life for herself, she is faced with a fresh humiliation, until the painful contrast between the future she imagined and her daily reality ultimately drives her to a breaking point. ...Show more
$35.00
NZD
Category: Fiction
Shortlisted for the Booker Prize 2020. A searing debut novel about mothers and daughters, obsession and betrayal - for fans of Jenny Offill's Weather, Deborah Levy's Hot Milk and Diana Evans' Ordinary People. 'Taut, unsettling, ferocious' - Fatima Bhutto, author of The Runaways. 'Acerbic, full of wit and cool intelligence - every sentence is a coiled spring and each psychological portrait burns itself into the mind. I couldn't put it down' - Olivia Sudjic, author of Exposure and Sympathy. 'Crystalline, surgical, compulsively readable. An examination of toxic relationships and the ties that bind us' - Sharlene Teo, author of Pont. In her youth, Tara was wild. She abandoned her loveless marriage to join an ashram, endured a brief stint as a beggar (mostly to spite her affluent parents), and spent years chasing after a dishevelled, homeless 'artist' - all with her young child in tow. Now she is forgetting things, mixing up her maid's wages and leaving the gas on all night, and her grown-up daughter is faced with the task of caring for a woman who never cared for her. This is a love story and a story about betrayal. But not between lovers - between mother and daughter. Sharp as a blade and laced with caustic wit, Burnt Sugar unpicks the slippery cords of memory and myth that bind two women together, and hold them apart. 'Daring and deliciously dark, Burnt Sugar will keep you gripped until the very last sentence' - Zeba Talkhani, author of My Past is a Foreign Country. 'Raw, wise and cuttingly funny on love and cruelty, marriage and motherhood, art and illness, and one woman's fight for her sense of self' - Rowan Hisayo Buchanan, author of Starling Days. ...Show more
$38.00
NZD
Category: Fiction
John Lennon achieved with the Beatles a level of superstardom that defied classification. "We were the best bloody band there was," he said. "There was nobody to touch us."   In the summer of 1980, Lennon signs with a label and hires a top producer to recruit the best session musicians, ready to recor d new music for the first time in years. They are awestruck when Lennon dashes off "(Just Like) Starting Over." Lennon is back in peak form, with his best songwriting since "Imagine."   The Last Days of John Lennon is the amazing story of John Lennon's life and career, from his earliest days and first songs up to his last seconds. It tells the story of the most profound rock-and-roll genius of all time-and of Mark David Chapman, the consummate Nowhere Man who took him from us. Enriched by exclusive interviews with Lennon's friends and associates, including Paul McCartney, the book is a true-crime drama about two men who changed history. One whose indelible songs still enrich our lives today-and the other who ended the beautiful music with five pulls of a trigger.   ...Show more
$33.00
NZD
Category: Fiction
'A dark jewel, polished and precision-cut ... Love and Theft pays tribute to classic capers - and rivals the best of them for verve and ingenuity. A breathless adventure both starry-eyed and cool-blooded, both charming and diabolical.' - A. J. Finn, author of the #1 bestseller The Woman in the Window   ...Show more
$33.00
NZD
Category: Fiction
Over 40 delightful stories drawn from The Return Journey and This Year it will be Different, plus eight new autobiographical stories.  
$33.00
NZD
Category: Fiction
A thrilling, intricate and page-turning new novel from the godmother of Norwegian crime fiction. A Necessary Death is the second instalment in Anne Holt's new crime series featuring Selma Falck.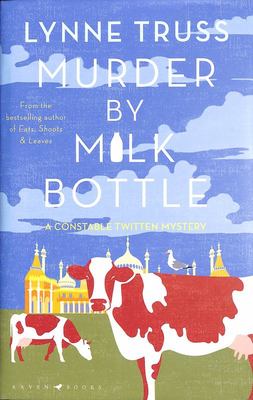 $37.00
NZD
Category: Fiction | Series: A\Constable Twitten Mystery Ser.
The quirky and charming third crime novel from New York Times bestselling author Lynne Truss. In the wake of two extremely high-profile murder cases, and with the summer of 1957 finally winding down, Constable Twitten is eagerly anticipating a quiet spell at work. But his hoped-for rest is interrupted when he and his colleagues find a trio of bodies, all murdered with the same unusual weapon: a milk bottle. The three victims are seemingly unconnected-a hardworking patrolman, a would-be beauty queen, and a catty BBC radio personality-so Constable Twitten, Sergeant Brunswick, and Inspector Steine are baffled. But with Brighton on high alert and the local newspaper churning out stories of a killer on the loose, the police trio is determined to solve the case and catch the killer. Charming, witty, and full of the joyfully zany characters Truss's readers have come to love, Murder by Milk Bottle will delight old fans and new alike. ...Show more
$33.00
NZD
Category: Fiction
"Very funny and unexpected, a material response to our times, plush as velvet." -Rachel Cusk "A wickedly funny and emotionally expansive novel about all the bewildering ways we seek solace from the people and things that surround us." - Jenny Offill David Leavitt returns with his signature "coolly ele gant prose" (O, The Oprah Magazine) to deliver a comedy of manners for the Trump era. It is the Saturday after the 2016 presidential election, and in a plush weekend house in Connecticut, an intimate group of friends, New Yorkers all, has gathered to recover from what they consider the greatest political catastrophe of their lives. They have just sat down to tea when their hostess, Eva Lindquist, proposes a dare. Who among them would be willing to ask Siri how to assassinate Donald Trump? Liberal and like-minded-editors, writers, a decorator, a theater producer, and one financial guy, Eva's husband, Bruce-the friends have come to the countryside in the hope of restoring the bubble in which they have grown used to living. Yet with the exception of one brash and obnoxious book editor, none is willing to accept Eva's challenge. Shelter in Place is a novel about house and home, furniture and rooms, safety and freedom and the invidious ways in which political upheaval can undermine even the most seemingly impregnable foundations. Eva is the novel's polestar, a woman who moves through her days accompanied by a roving, carefully curated salon. She's a generous hostess and more than a bit of a control freak, whose obsession with decorating allows Leavitt to treat us to a slyly comic look at the habitués and fetishes of the so-called shelter industry. Yet when, in her avidity to secure shelter for herself, she persuades Bruce to buy a grand if dilapidated apartment in Venice, she unwittingly sets off the chain of events that will propel him, for the first time, to venture outside the bubble and embark on a wholly unexpected love affair. A comic portrait of the months immediately following the 2016 election,Shelter in Place is also a meditation on the unreliable appetites-for love, for power, for freedom-by which both our public and private lives are shaped. ...Show more
$35.00
NZD
Category: Fiction
The new book from award-winning writer and comedian Mark Watson - available to pre-order now! 'This is such a great book, funny and serious and daring and humane' Richard Curtis 'Mark Watson is one of my favourite writers and Contacts is by far his best book yet' Adam Kay James Chiltern boards the 23 :50 sleeper train from London to Edinburgh with two pork pies, six beers and a packet of chocolate digestives. At 23:55 he sends a message to all 158 people in his contacts, telling them that he plans to end his life in the morning. He then switches his phone to flight mode. He's said goodbye. To him, it's the end of his story - and time to crack open the biscuits. But across the world, 158 phones are lighting up with a notification. Phones belonging to his mum. His sister. His ex-best friend. The woman who broke his heart. People he's lost touch with. People he barely knows. And for them, the message is only the beginning of the journey. Funny and wise, tender and deeply moving, Contacts is a beautiful story about the weight of loneliness, the importance of kindness - and how it's never too late to reach out. *Don't miss it - pre-order now!* ...Show more
$35.00
NZD
Category: Fiction | Series: Jane Hawk Ser.
The fate of the world is in the hands of a father and daughter in an epic novel of wonder and terror by Dean Koontz, the #1 New York Times bestselling master of suspense. Since his wife, Michelle, left seven years ago, Jeffy Coltrane has worked to maintain a normal life for himself and his eleven-year- old daughter, Amity, in Suavidad Beach. It's a quiet life, until a local eccentric known as Spooky Ed shows up on their doorstep. Ed entrusts Jeffy with hiding a strange and dangerous object--something he calls "the key to everything"--and tells Jeffy that he must never use the device. But after a visit from a group of ominous men, Jeffy and Amity find themselves accidentally activating the key and discovering an extraordinary truth. The device allows them to jump between parallel planes at once familiar and bizarre, wondrous and terrifying. And Jeffy and Amity can't help but wonder, could Michelle be just a click away? Jeffy and Amity aren't the only ones interested in the device. A man with a dark purpose is in pursuit, determined to use its grand potential for profound evil. Unless Amity and Jeffy can outwit him, the place they call home may never be safe again. ...Show more