$20.00
NZD
Category: Picture Books
Ziggy decides to plant sunflowers in autumn, but everyone knows sunflowers don't grow in winter.  Or do they?  Sunflowers Don't Grow in Winter is a true story of hope, determination, and a little boy's love of sunflowers.  Search and Find - on each spread, children will need to find the three B's - a bee, a butterfly and a bird.  At the back of the book, learn how to grow your own sunflowers and how our thoughts are like seeds.  Recommended age: 4 - 10 years ...Show more
$25.00
NZD
Category: Picture Books | Series: Ruby Red Shoes
Join Ruby Red Shoes on her second adventure: in Paris! Ruby Red Shoes and her grandmother are on holiday in Paris and Ruby is fizzing with excitement as she explores. She practices her best French, eats buttered baguettes, and scoots about with a special new friend who shows her the sights. It's a time she'll treasure forever. Ruby Red Shoes Goes to Paris is a charming, heartwarming tale about the wonders of travelling, featuring gorgeous full-colour illustrations. This is the second installment in Kate Knapp's Ruby Red Shoes series - find out more about Ruby, her grandmother and her home in the first book in the series: Ruby Red Shoes: A Very Aware Hare. ...Show more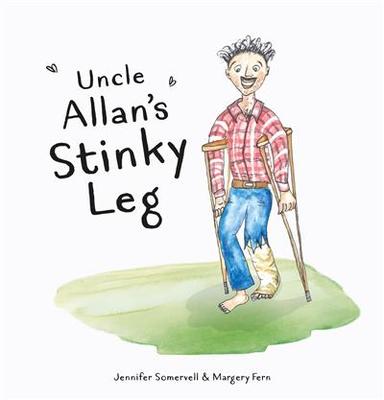 $22.00
NZD
Category: NZ Picture Books
Uncle Allan slumps on the couch and stares at his clean, white plaster cast. He is SO BORED! Then he has a bright idea … with unfortunate consequences! Find out interesting and fun facts about the real Uncle Allan, fractures, plaster casts, your amazing bones and how they heal.
$19.00
NZD
Category: NZ Picture Books
Twas the dawn before Christmas and, down at the bach Santa was fishing... just one more he'd catch. From the creators of the ultimate Kiwi Christmas read-aloud A Kiwi Night Before Christmas comes the prequel A Kiwi Day Before Christmas and Santa has work to do! Luckily his trusty little helpers have been busying themselves in his workshop with all that gift wrapping. But those prezzies won't be going anywhere without Santa's reindeer to pull the tractor so where have those sheep got to? ...Show more
$25.00
NZD
Category: Picture Books | Series: Growing Hearts
The life of a toddler can be full of frightening things: the dark, the neighbor's dog, and thunderstorms, just to name a few. As a child gets older, they begin to feel braver around these everyday events, but how do they build this newfound confidence? In this lyrical, insightful picture book, an older sister explains to her younger sister all the things she used to be afraid of, along with some tricks to help, whether it's a special blanket for bedtime or singing during a storm. Now, big sister assures little sister, the fears that once felt as big as a mountain feel as minuscule as a speck of dust. This playful portrait of fear and bravery empowers young readers to confront once-scary situations and, with charming illustrations and die-cuts throughout, is also beautifully packaged. ...Show more
$20.00
NZD
Category: Picture Books
Whether big or small, feathered or furry, dads always know how to make us laugh. My dads the coolest because he is fun and crazy about me... what about yours?
$19.00
NZD
Category: Picture Books
A story celebrating the traditional Polynesian sport of outrigger canoe racing, from the creators of the bestselling The Girls in the Kapa Haka. These are the crew of the waka, which raceside-by-side at a heart-thumping, breath-taking pace.Their whanau have gathered along the shore -"Kia tere! Kia tere ! Kia tere - give more!"The waka glides faster, the boys dig in deep.There will be no rest till this race is completeas they race in the waka ama. With a lovely singing text and vibrant illustrations, this timely story celebrates all aspects of this incredibly popular and fast-growing sport that is so special to Aotearoa. ...Show more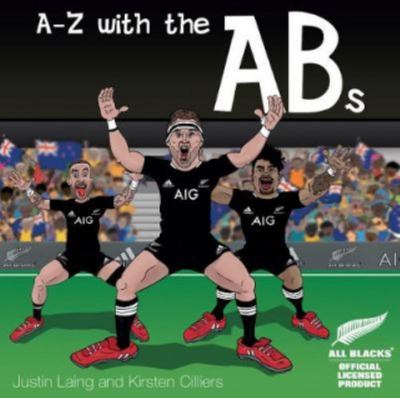 $20.00
NZD
Category: Picture Books
A-Z with the ABs is a perfect gift for the young at heart All Blacks fan in your family! Includes an autograph section to capture your favourite players' signatures! Officially licensed by the All Blacks and New Zealand Rugby Union.
$35.00
NZD
Category: Picture Books
An extraordinary pop-up book that reveals the secrets of the most famous fairy-tale villains--the giant, the wolf and the witch--with interactive flaps, a twist on well-known tales, and personality cards for each villain. Lift the flaps to see the diabolical thoughts inside the villains' heads, what hid es beneath their disguises, or the victims of their last meals (now comfortably settled inside their stomachs ). Read all about each villain on their personality card, which shows strengths and weaknesses, pastimes, physical characteristics, their best meal and--of course--their favorite books. And if the wolf bites your fingers while you're reading, you can always pull his tail... ...Show more
$20.00
NZD
Category: Picture Books
The little Kiwi is fast asleep in her burrow. A beam of moonlight shines right down into her burrow. She wakes, and realises it is time. Hurrying out into the night, she wakes each of her friends from their mid-winter slumber. 'Kia tere! Hurry!' she urges them.
Out
by George Angela May
$18.00
NZD
Category: Picture Books
A little girl and her mother have fled their homeland, making the long and treacherous journey by boat to seek asylum. Timely, powerful and moving, Out celebrates the triumph of the human spirit in the darkest times, and the many paths people take to build a new life.
$18.00
NZD
Category: Picture Books
New Zealand's favourite story celebrating the Maori performing art of kapa haka is great for the whanau to read together! These are the poi that circled and twirled above the heads of the singing girls who wore the piupiu that swished and swirled, made from the flax that Koro cut, that the mussel shell scraped, that the kuia made, that swung from the hips of the girls in the kapa haka. ...Show more